Overview
The Data Detox Kit was born from the realization of how overwhelmed many people feel by issues of data privacy, digital security, and wellbeing. The most prevalent tone surrounding digital tech in the news today is a negative one, centered around fear-mongering, which leaves people feeling helpless and hopeless. Every few weeks, a new data breach or report of previously unknown tracking capabilities are revealed to the public. In the face of all this negativity, the question we were most often asked was: 'What can I do?'.
The Data Detox Kit brings a new narrative, a new approach: by giving people actionable tips and tricks, breaking down the issues, and allowing people the freedom to decide what is important to them.
The Data Detox Kit offers recommendations on everyday steps that you can take to protect your digital privacy, security, and wellbeing. The user-friendly advice ranges from suggesting alternative apps for better privacy and autonomy to password protection advice. Altogether, the guide allows individual users to adjust their digital behaviors and encourages educators to incorporate these materials into their training modules.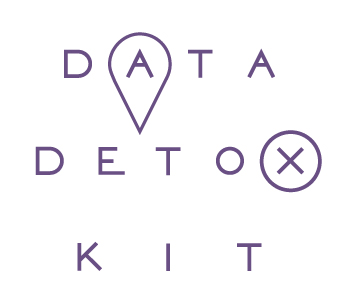 ---
The Challenge
Privacy
If you think about what your data tells others about you, it may not seem like a big deal: who cares if you're a fan of country music, like to buy more shoes than you need, or start planning your next vacation a year in advance?
The problem lies in what's happening with your data. Taken together over time, intimate digital patterns emerge: your habits, movements, relationships, preferences, beliefs, and secrets are revealed to those who analyze and profit from them, like businesses and data brokers. By updating the settings and permissions in apps, smartphones, and online accounts, you can take informed steps to control your data traces.
Security
If the internet were just a place for sharing pictures of dogs wearing dinosaur costumes, there wouldn't be much need for passwords. But the internet is also where you pay your bills, refill your prescriptions, and register to vote. When you think about all of your "virtual valuables" that are shared over the internet – and stored on your devices – why wouldn't you keep them as secure as your wallet or keys?
There's one simple way to make it harder for others to access your virtual valuables: don't make it easy for them to guess your passwords. Most people don't need specialized technical skills to get into your accounts – they can do it just by making a few guesses at your passwords or running an automated program. And once they're able to get into one account, they can try that compromised password on other accounts, gather information about you and your habits, and take over accounts or even your digital identity. By learning about what makes a strong password, and how to use the available tools like password managers to support digital security, you will be well on their way to using technology more safely and confidently.
Wellbeing
When was the last time you "unplugged" and didn't touch technology for a day, or even just an hour? If you're constantly online, you're not alone. The average person taps, clicks and swipes on their phone over 2,600 times each day. If you're doing anything that often, you want to feel like it's worth it. How can you make sure that time on your device is quality time?
It starts with knowing that the irresistible pull toward your tech isn't your fault! Believe it or not, your favorite apps and websites are designed so that every feature, color and sound has been 'optimized' to keep you hooked, sold and coming back for more. Apps and websites are also designed to lead you to where they think you ought to go. Buttons keep an emphasis on confirmation (click "yes") and texts are written in ways that are all too convincing. Even the media is increasingly designed to grab your attention through sensationalist headlines and angles. The first step towards a more balanced online life is a clearer understanding of persuasive designs and different forms of misinformation.
---
About the Intervention
The Data Detox Kit was launched in 2018 as a public education campaign about digital tech issues that are becoming ubiquitous for users of all ages. The Tactical Tech team has primarily coordinated with educators and librarians to distribute and localize materials, as well as run interactive workshops.
The Data Detox Kit has been the primary giveaway in the Glass Room exhibition (www.theglassroom.org), which has taken place over 150 times throughout more than 40 countries in five continents.
---
Impact & Future Plans
Since its launch, the Data Detox Kit has reached approximately 1.5 million people around the world, through events, the distribution of printed kits, and a dedicated website. It has been translated into 10 languages, with another 7 languages in the pipeline for 2020.
Over the past year, there have been 100 Data Detox Kit workshops globally, including Brazil, Ghana, Mexico, Egypt, and all across Europe. In 2020, Tactical Tech will continue to reach new audiences in more remote regions and underserved communities by continuing to increase accessibility to this project through multimedia and more specialized content.
The reach and influence of the Data Detox Kit workshops has been furthered by features in Teen Vogue, the BBC, Forbes, and other global media like the Frankfurter Allgemeine Zeitung, The Times of India, El Pais, and community outlets like the Fabulous Woman Network in Ghana.